FAQ
General
What is the S GRIP PRO in a nutshell?
The S GRIP PRO is a customizable video camera handle which allows you to hold and control your camera using all the fingers of your hand.
The grip has 4 buttons and 1 joystick which are essentially pressure sensors. Using our app, assign camera functions to the grip and manage button sensitivity.
The added bonus of being able to make button combinations allows you to access a yet greater number of functions. And you'll see, assimilating the commands assigned to the handle takes very little effort.
If you have played a musicial instrument you'll find the parallel striking. Think of button combinations as chords.
The Caman S GRIP PRO allows you to have a good hold of your video camera, which gives you better stabilization in a sense, but it is not a stabilizer.
However, it can be used to control a camera fixed on a stabilizer.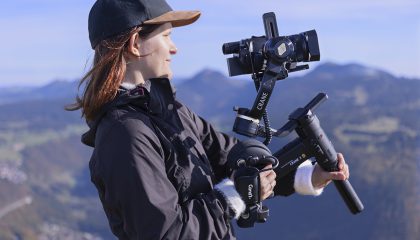 Is the S GRIP PRO compatible with my camera?
The Caman S GRIP PRO uses the LANC protocol to communicate with the camera. It is therefore compatible with any Sony, Canon, Panasonic, Lumix, Z-Cam or even BlackMagic cameras which have a remote mini-jack input.
In other words, if your camera has a remote LANC ø 2.5mm input, it's very likely that it will be compatible.
Click here for a list of known compatible models and accessible functions.
If you cannot find your camera or have any particular questions, get in touch with our team : contact@caman.swiss.
How can I attach the S GRIP PRO to a camera?
There are many ways of fixing your handle to a camera. It all depends on the size of your camera and your filming preferences.
Generally, you would attach the handle to a camera using standard Arri connectors or place the camera onto a mounting plate.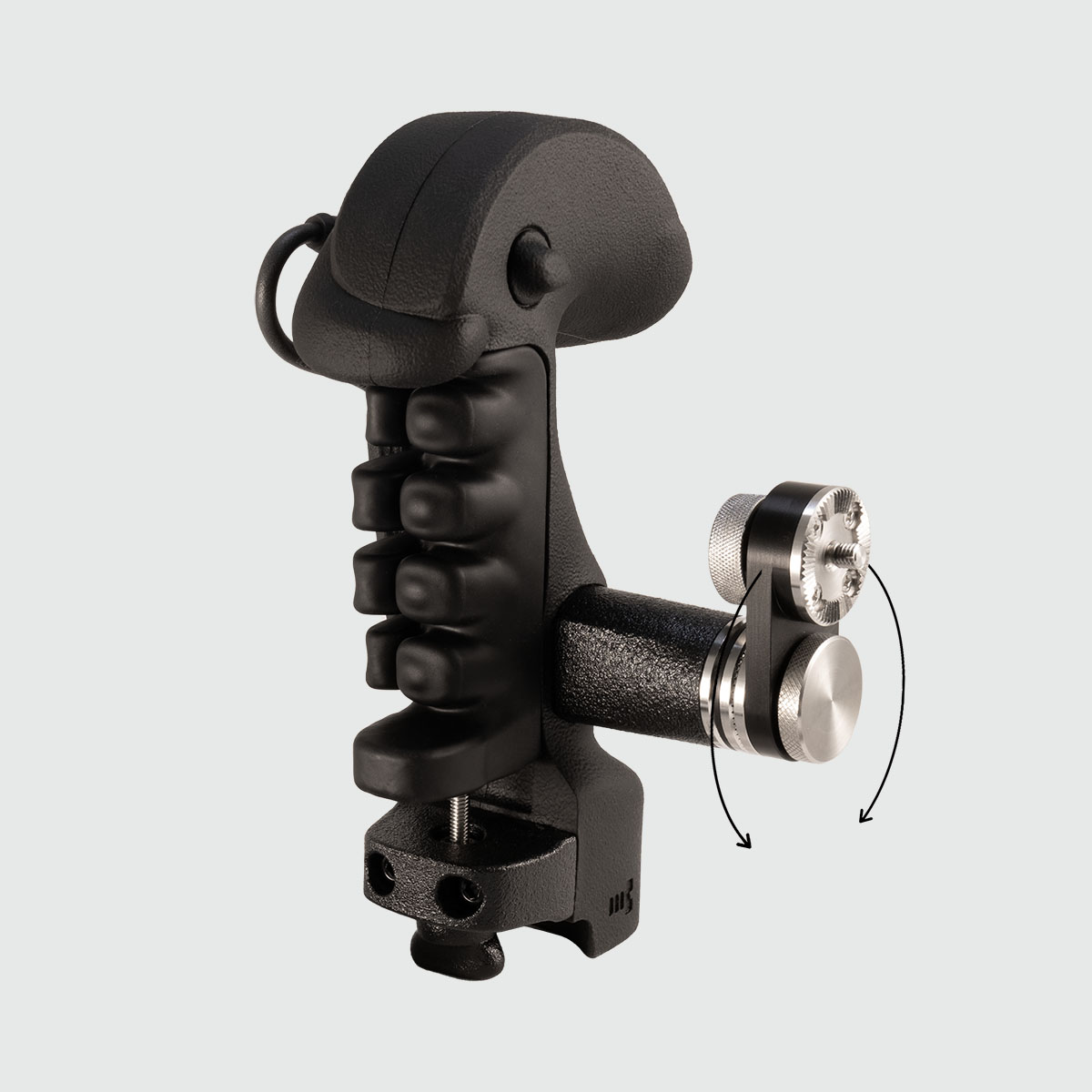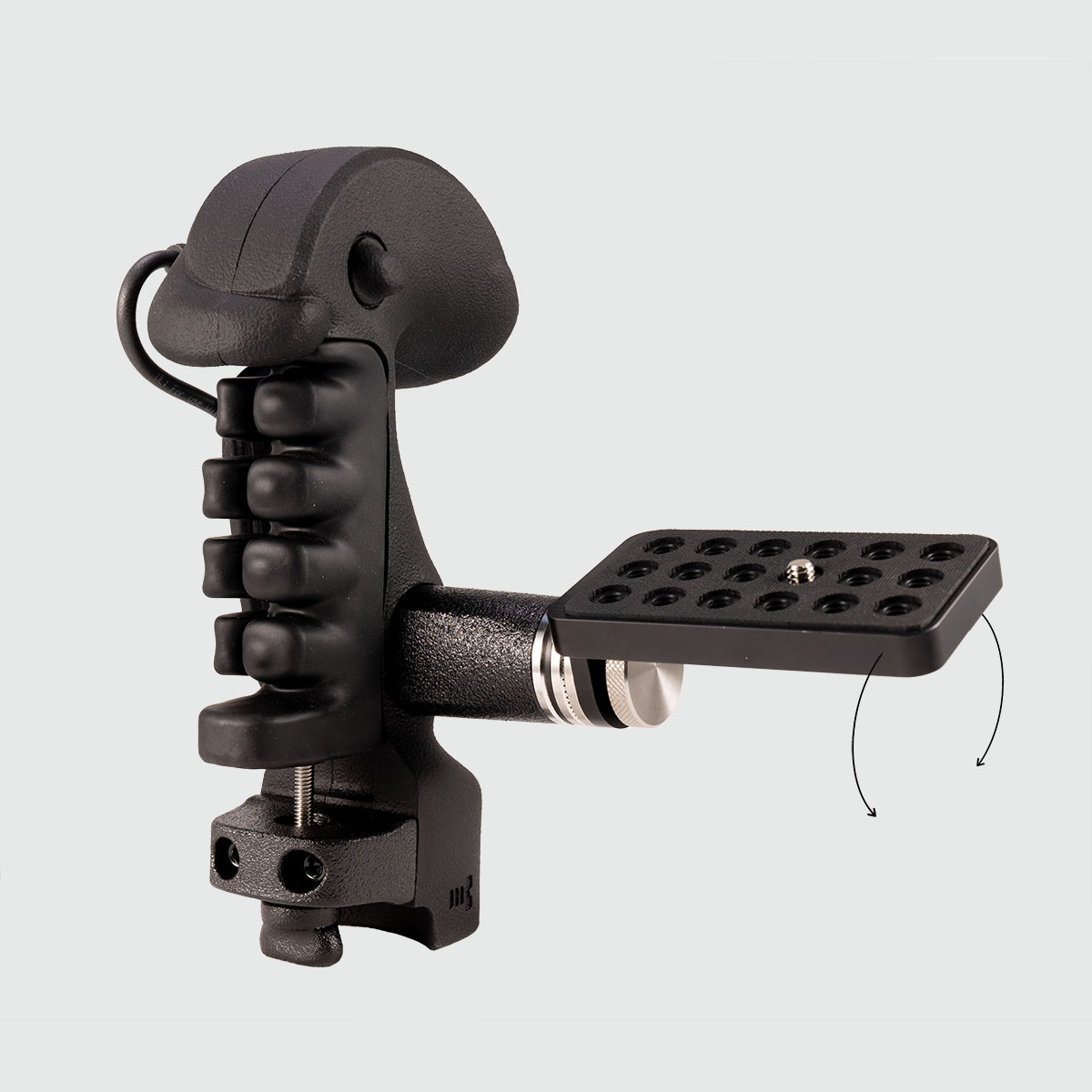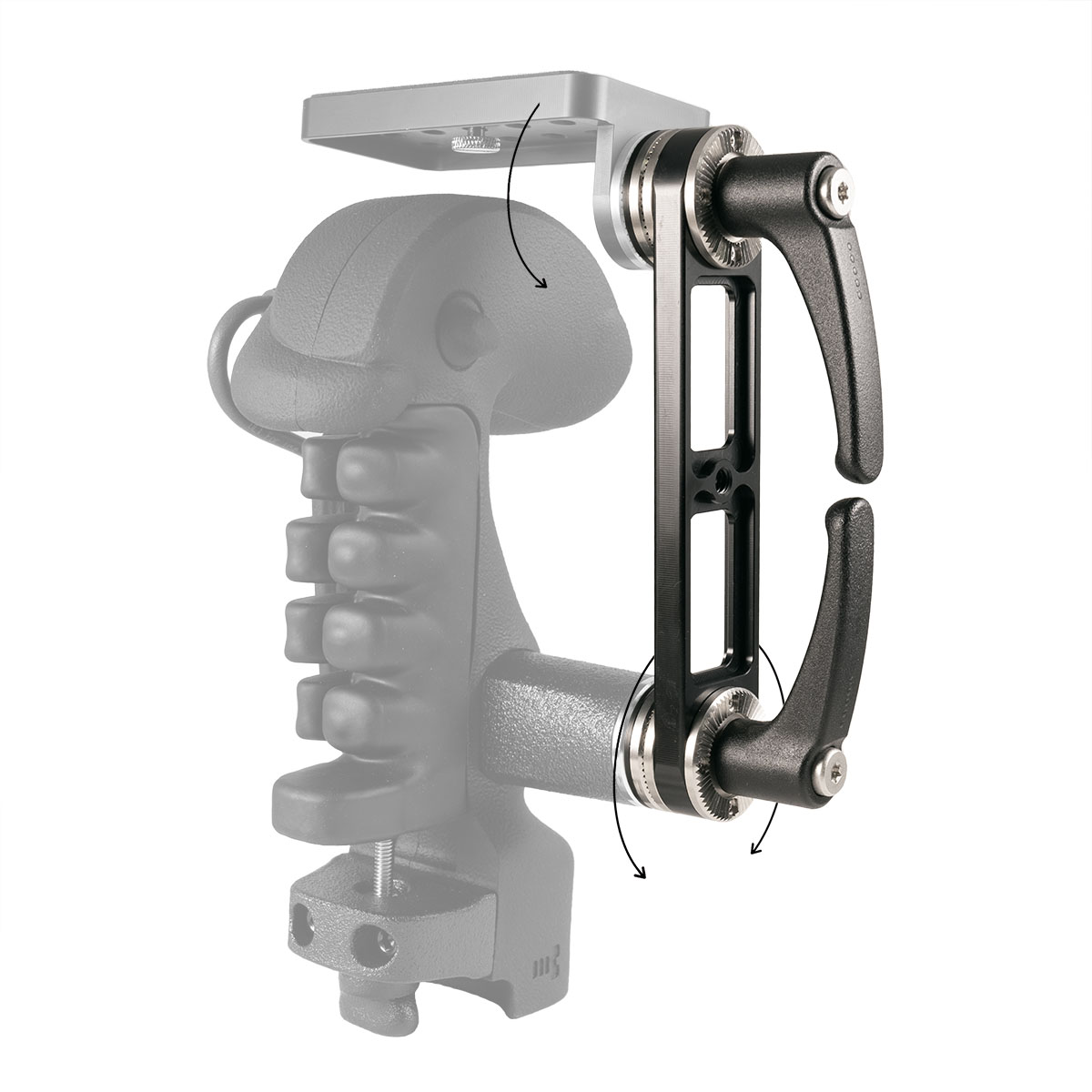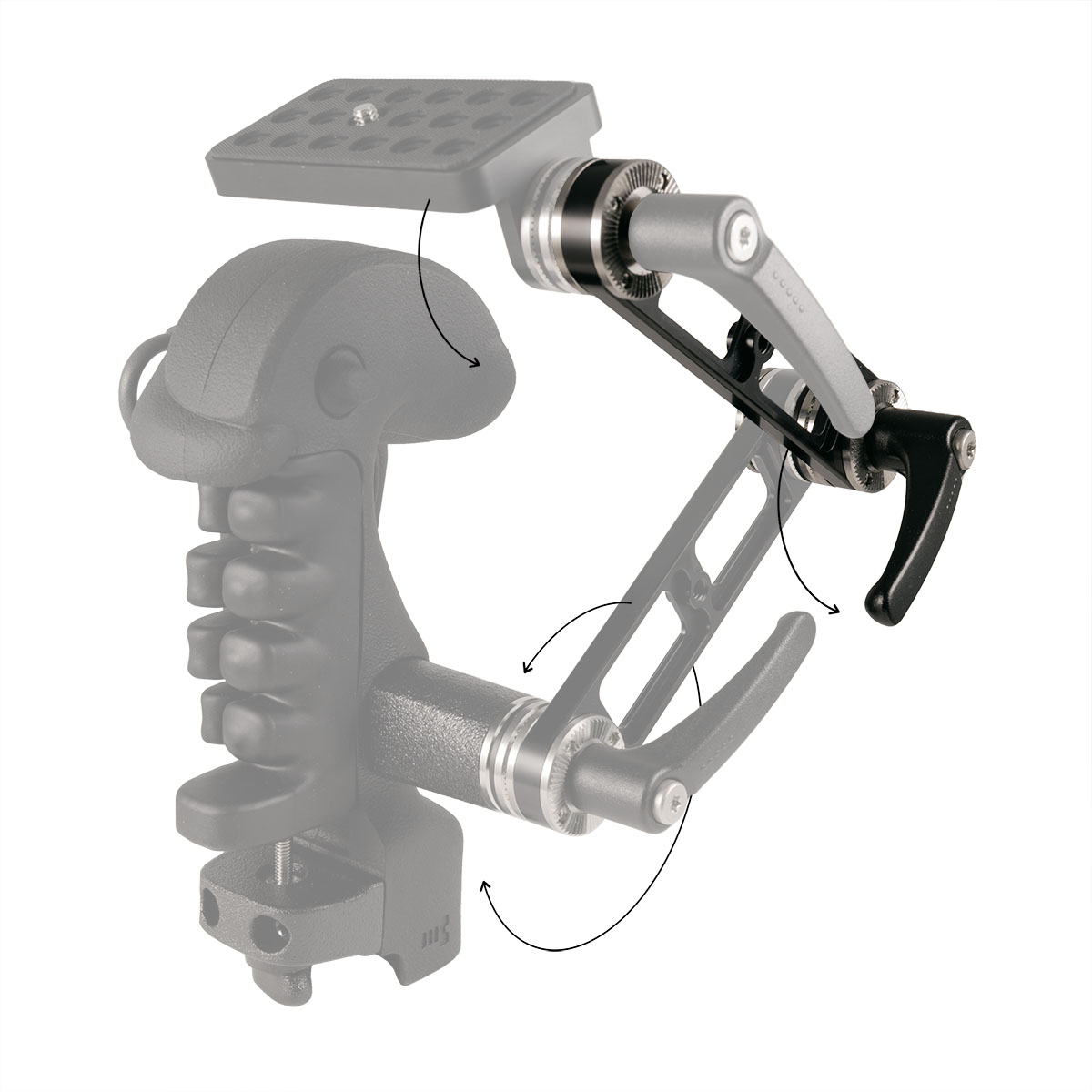 How do I connect with the camera?
The S GRIP PRO communicates with the camera via an electronic module. This wired configuration guarantees you'll never miss a beat in your productions.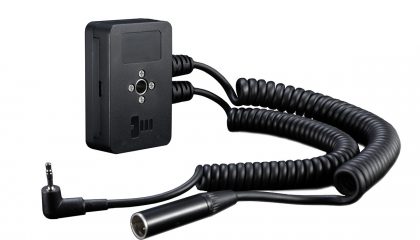 Yes, it is. The grip serves as a keyboard, while the module containing your settings serves as a communicator with the camera. Without the module, your handle cannot communicate with the camera, but it remains a very comfortable and sturdy grip.
How do I power the S GRIP PRO?
Most cameras provide sufficient power for using the handle and the module. If necessary, however, it is possible to supply power to the module directly from an external source using the EIAJ DC power connector.
About the handle
What do you mean by «the handle adapts to your hand size» ?
We have developed a system of worm drive which allows you to adjust the spacing between the buttons so that the buttons always fall under the flat of your fingers regardless of your hand size. This makes it possible to use the handle in cold weather wearing gloves or mittens.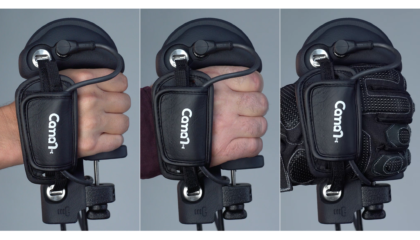 I heard the grip is waterproof. Does it mean I can submerge it ?
The grip is IP66-certified which means you can use it in the rain, in humid environments and you can even use running water to clean it, but you cannot submerge it. The electronic module, on the other hand, must be kept away from any water source, as you would your camera.
Purchases, orders & payment
I'm thinking of buying the S GRIP PRO, but I still have a few questions, how can I best reach you ?
Your best option would be to write directly to us at contact@caman.swiss. One of our team will get back to you within the next 24 hours.
How long does the warranty run on a newly purchased item?
What payment methods do you accept?
Payments can be made by credit card (Visa, Mastercard). You can also pay by wire transfer.
Is there a 14-days money back guarantee?
If after purchasing a product from us you decide you do not want it anymore, you have 14 days to exercise your right of withdrawal. The right of withdrawal is only applicable to unused products which are returned within 14 days following the withdrawal, in perfect condition and in their original unopened packaging.
I've ordered a product on your website, but haven't received any confirmation. Is that normal?
Since the purchase contract between CameraTools and you consists of the online order, the purchase confirmation and the General Terms and Conditions, it is vital that you should receive a confirmation. If you do not get one, please let us know as soon as possible by writing to contact@caman.swiss.
Shipping & returns
How long will it take for my order to ship?
Orders normally ship within 2 working days and should reach you between 1 to 5 working days depending on your geographical location. These deadlines may however vary independently of our responsibility and control and cannot be the subject of any compensation or request for reimbursement.
What can I do if I still haven't received my order after 30 days?
If you have not received anything after 30 days, please contact us at contact@caman.swiss. One of our team will contact you and find a way to resolve the issue.
I have received my order but the packaging is damaged. What can I do?
If there is any visible damage, it is recommended that you refuse the goods and report it to us to organise a new delivery.
My product seems to be defective. What do I need to do?
If you suspect the product to be defective, we suggest getting in touch with our team in order to see whether the problem you experience can be fixed at all. We'll do our best to find a viable solution for you.
If the product needs to be returned, and provided that your product is still under warranty, we will provide a return label free of charge for transportation support with our partner DHL. If you need to return a defective product, please send a request to contact@caman.swiss for a return label. Please note that if you send the goods yourself, at your own expense, you will not be eligible for reimbursement.
Can I have a substitute grip until I get mine back ?
Depending on where you live, we may be able to provide a temporary replacement until your handle is returned to you.